The Elder Scrolls Online, Map of Stros-M'Kai
Stros M'Kai
Pirates and smugglers find safe haven on Stros M'Kai, which is ruled by the self-appointed Headman Bhosek the Bloody. Stros M'Kai is renowned for its completely steam-powered Dwemer ruins and ancient mines.
Alliance: Daggerfall Covenant (Starting area of the Daggerfall Covenant).
Part of: Hammerfell (The homeland of the Redguards).
Settlements: Port Hunding.
Skyshards:
Across the water from the western wall (The Skyshard is behind Neramo's tent with dwemer artifacts).
The mouth of The Grave stands open (The Skyshard is next to The Grave's entrance).
Crashed through a Saintsport roof (The Skyshard is inside one of Saintsport's houses with a broken roof).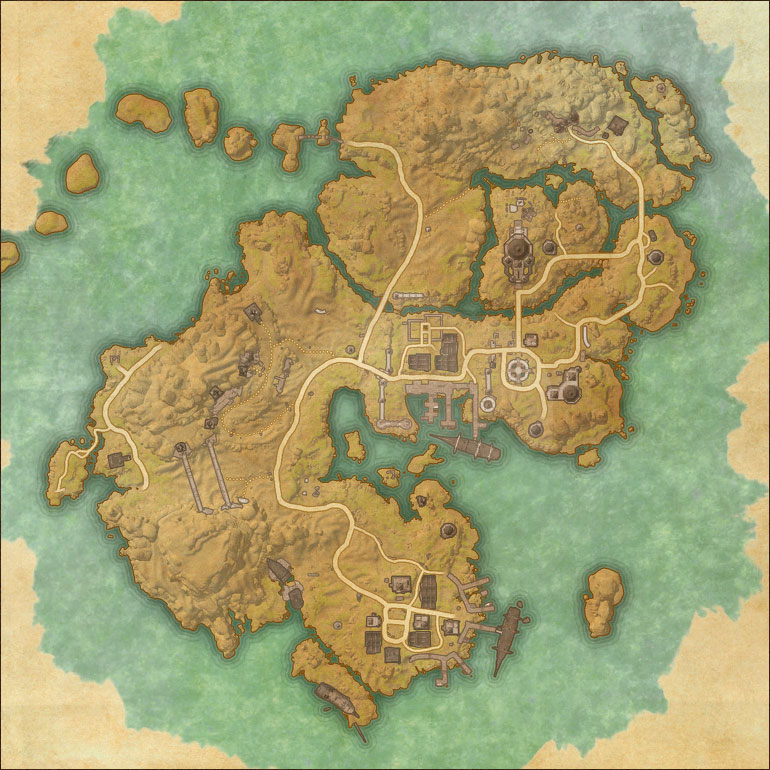 Stros M'Kai
Port Hunding
Port Hunding
The Grave
Bthzark
Saintsport
Headman Bhosek's Palace
Lighthouse
Dogeater Goblin Camp
Rash Merchant's Plummet
Pillar of the Singing Sun
Saintsport Wayshrine
Port Hunding Wayshrine
Sandy Grotto Wayshrine
Stros M'Kai Treasure Map I
Stros M'Kai Treasure Map II
Stros M'Kai Treasure Map CE
Skyshard (Across the water from the western wall)
Skyshard (The mouth of The Grave stands open)
Skyshard (Crashed through a Saintsport roof)

Cartographer Vespa