The Elder Scrolls Online, Map of Rivenspire
Rivenspire
Rivenspire is a northern region of High Rock. Jagged rock formations rise from the lowland shadows in this gloomy expanse of High Rock.
Alliance: Daggerfall Covenant.
Part of: High Rock (The homeland of the Bretons).
Cities: Shornhelm, Northpoint.
Rivenspire Skyshards
Just outside Shornhelm's gate (South of Shornhelm Wayshrine, next to the main Shornhelm's gate).
Honoring the dead in Eyebright's west (Northwest of Camp Tamrith Wayshrine, north of Eyebright Feld Dolmen).
Crumbled tower, Crestshade's welcome (Southeast of Crestshade Wayshrine, close by the bridge in Crestshade).
Wolves howl at the Hoarfrost nearby (North of Hoarfrost Downs Wayshrine and Hoarfrost Downs village).
Cresting the wood of words (Northeast of Hoarfrost Downs Wayshrine and Hoarfrost Downs village).
In the eye of the Point (On top of the lighthouse at the northeast tip of Northpoint).
Skittered over in the pass (Southwest of Staging Grounds Wayshrine).
Follow the song to the Landing (On an island to the northwest of Northpoint).
Ditched outside of Lorkrata (Behind the most eastward tower inside Lorkrata Hills).
In the tunnels under Crestshade (Inside Crestshade Mine solo dungeon).
Seek worms who burrow for a tear (Inside Erokii Ruins solo dungeon).
Among Flyleaf's unearthed dead (Inside Flyleaf Catacombs solo dungeon).
Secret in the blood-suckers' hideaway (Inside Hildune's Secret Refuge solo dungeon).
Look upon the Orsimer's hand (Inside Orc's Finger Ruins solo dungeon).
Conquer the crypt of trials (Inside Tribulation Crypt solo dungeon).
Stolen by worshipers of Ashpit's Lord (Inside Obsidian Scar public dungeon).
Obsidian Scar (Public Dungeon)
Name
Description
Points
Category
Obsidian Scar Vanquisher
Defeat three of the champions in Obsidian Scar.
10
Dungeons:
Public Dungeons
Obsidian Scar Conqueror
Defeat all of the champions in Obsidian Scar.
50
Dungeons:
Public Dungeons
Obsidian Scar Group Event
Defeat the Orc, Zilbash the Deceiver, at Obsidian Scar.
50
Dungeons:
Public Dungeons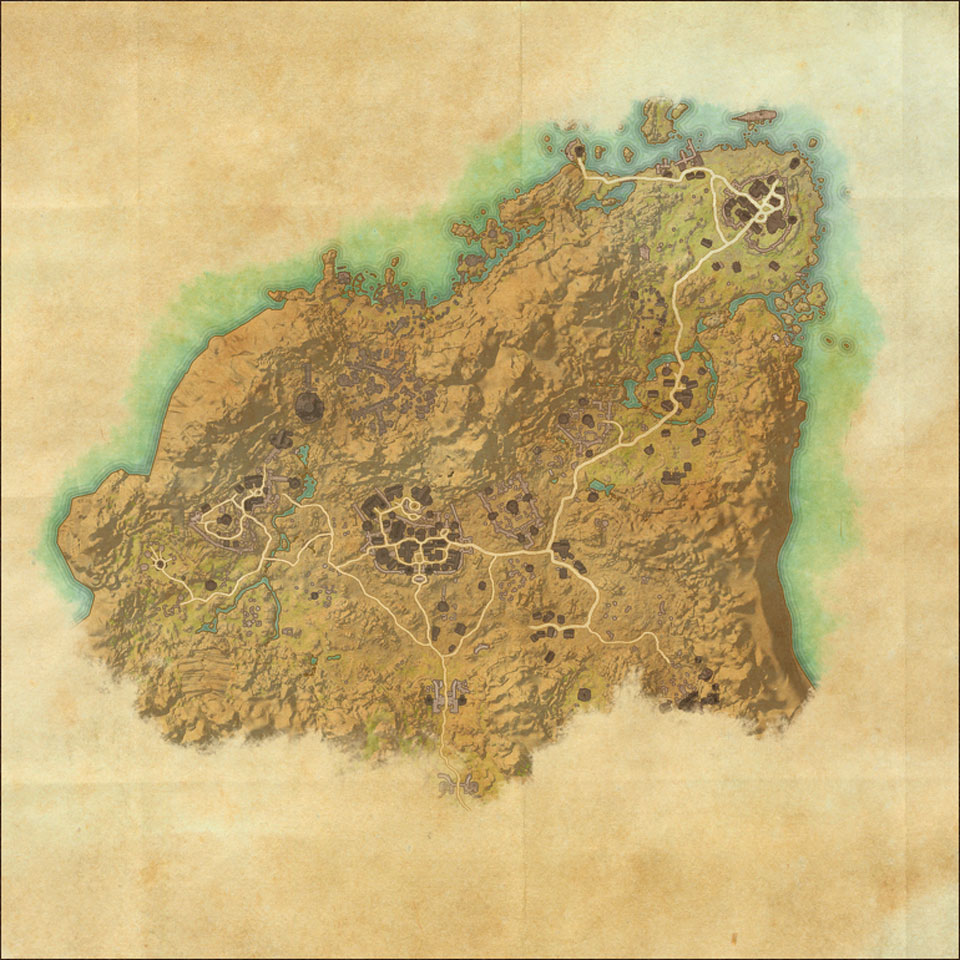 Rivenspire
Shornhelm
Northpoint
Shornhelm
Northpoint
Fell's Run
Hoarfrost Downs
Moira's Hope
Edrald Estate
Camp Tamrith
Hinault Farm
Silverhoof Vale
Breagha-Fin
The Doomcrag
Lorkrata Hills
Ravenwatch Castle
Sanguine Barrows
Crestshade
Traitor's Tor
Crypt of Hearts
Obsidian Scar
Crestshade Mine
Erokii Ruins
Flyleaf Catacombs
Hildune's Secret Refuge
Orc's Finger Ruins
Tribulation Crypt
Aesar's Web

---

This is a den inhabited by a giant spider named Aesar the Hatespinner.

Related Quest:

The Spider's Cocoon: Rescue Garth from a den of a giant spider.

Achievement:

Hatespinner Hunter: Kill the giant spider, Aesar the Hatespinner, at Aesar's Web.
East-Rock Landing

---

This is a bandit camp on an island off the east coast of Rivenspire.

Achievement:

Sgugh's Assassin: Kill the Orc, Sgugh gra-Dum, at East-Rock Landing.
Magdelena's Haunt

---

This is a camp occupied by a hag named Magdelena.

Achievement:

Hag Hunter: Kill the hag, Magdelena, at Magdelena's Haunt.
Old Kalgon's Keep

---

This is a ruined keep inhabited by a necromancer named Louna Darkblood and her sister Calixte.

Achievement:

Darkblood Hunter: Kill the necromancer, Louna Darkblood, at Old Kalgon's Keep.
Siren's Cove

---

This is a cove inhabited by a nereid named Desuuga the Siren.

Achievement:

Siren Hunter: Kill the nereid, Desuuga the Siren, at Siren's Cove.
Valeguard Tower

---

This is a tower overlooking Silverhoof Vale. A gargoyle named Menhir Stoneskin resides here.

Related Quest:

In the Doghouse: Find Nathalye Ervine's husband, Ignobert, who went missing after a vampire attack.

Achievement:

Menhir Hunter: Kill the gargoyle, Menhir Stoneskin, at Valeguard Tower.
Boralis Dolmen
Eyebright Feld Dolmen
Westmark Moor Dolmen
The Atronach

---

This is a Mundus Stone found in Greenshade, Rivenspire, Shadowfen, and Cyrodiil. Activating the Atronach stone will grant you the permanent blessing of increased Magicka regeneration.
The Serpent

---

This is a Mundus Stone found in Greenshade, Rivenspire, Shadowfen, and Cyrodiil. Activating the Serpent stone will grant you the permanent blessing of increased combat health regeneration.
The Shadow

---

This is a Mundus Stone found in Greenshade, Rivenspire, Shadowfen, and Cyrodiil. Activating the Shadow stone will grant you the permanent blessing of increased critical strike damage.
Trader's Rest

---

This is a camp in southern Rivenspire which contains a special crafting site, where you may craft items in the Hist Bark set.
Vaewend Ede

---

This is an Ayleid ruin on an island in northern Rivenspire. It contains a special crafting site, where you may craft items in the Magnus' Gift set.
Westwind Lighthouse

---

This is a lighthouse on an island in northern Rivenspire. It contains a special crafting site, where you may craft items in the Whitestrake's Retribution set.
Dorell Farmhouse
Lagra's Pearl
Northsalt Village
Old Fell's Fort
Old Shornhelm Ruins
Shadowfate Cavern
Southgard Tower
Boralis Wayshrine
Camp Tamrith Wayshrine
Crestshade Wayshrine
Fell's Run Wayshrine
Hoarfrost Downs Wayshrine
Northpoint Wayshrine
Oldgate Wayshrine
Sanguine Barrows Wayshrine
Shornhelm Wayshrine
Shrouded Pass Wayshrine
Staging Grounds Wayshrine
Rivenspire Treasure Map I
Rivenspire Treasure Map II
Rivenspire Treasure Map III
Rivenspire Treasure Map IV
Rivenspire Treasure Map V
Rivenspire Treasure Map VI
Rivenspire Treasure Map CE
Alchemist Survey: Rivenspire
Blacksmith Survey: Rivenspire
Clothier Survey: Rivenspire
Enchanter Survey: Rivenspire
Woodworker Survey: Rivenspire
Skyshard (Just outside Shornhelm's gate)
Skyshard (Honoring the dead in Eyebright's west)
Skyshard (Crumbled tower, Crestshade's welcome)
Skyshard (Wolves howl at the Hoarfrost nearby)
Skyshard (Cresting the wood of words)
Skyshard (In the eye of the Point)
Skyshard (Skittered over in the pass)
Skyshard (Follow the song to the Landing)
Skyshard (Ditched outside of Lorkrata)
Skyshard (In the tunnels under Crestshade)
Skyshard (Seek worms who burrow for a tear)
Skyshard (Among Flyleaf's unearthed dead)
Skyshard (Secret in the blood-suckers' hideaway)
Skyshard (Look upon the Orsimer's hand)
Skyshard (Conquer the crypt of trials)
Skyshard (Stolen by worshipers of Ashpit's Lord)