The Elder Scrolls Online, Map of Shadowfen
Shadowfen
It is a fetid mire, rank and treacherous, with a sordid history of Imperial occupation and the Dunmeri slave trade. The ancient city of Stormhold is located here, the source of the devastating Knahaten Flu. Shadowfen is also home to the Shadowscales, the Argonians who was born under the sign of the Shadow, and thus destined for a life in the Dark Brotherhood.
Alliance: Ebonheart Pact.
Part of: Black Marsh (The homeland of the Argonians).
Capital City: Stormhold. Settlements: Alten Corimont.
Shadowfen Skyshards
Above the Mages' eye between the falls (On the second floor of Mages Guild in Stormhold).
Still shrouded by spray past a western rise (North of Stillrise Village, northwest of The Vile Pavilion).
Sneak behind the relic-thieves' camp (Southwest of Bogmother Wayshrine, southeast of Camp Silken Snare).
Beside a bowsprit among pirates (On the bow of the north boat in Alten Corimont).
Ritual flames brew trouble in the mire (Northeast of Percolating Mire, southeast of Camp Crystal Abattoir).
Where wisps waylay wanderers (Northeast of The Atronach mundus stone, south of Deep Graves).
Like the sound of steam or snakes (West of Hissmir Wayshrine, in Hissmir).
Overlooking the murk of Xal Ithix (Southwest of The Serpent mundus stone, southwest of Xal Ithix).
Imprisoned in a crumbling tower (Northwest of White Rose Prison, southwest of Venomous Fens Wayshrine).
Peek behind pillars in Atanaz (Inside Atanaz Ruins solo dungeon).
Skittering, slithering, a tusk once whole (Inside Broken Tusk solo dungeon).
Unearthed by an outlaw excavation (Inside Chid-Moska Ruins solo dungeon).
Crown in hand, leave and look right (Inside Gandranen Ruins solo dungeon).
Climb, little kwama, to reach your goal (Inside Onkobra Kwama Mine solo dungeon).
Digesting in the belly of the Black Maw (Inside Shrine of the Black Maw solo dungeon).
Deep in the den of debauchery (Inside Sanguine's Demesne public dungeon).
Sanguine's Demesne (Public Dungeon)
Name
Description
Points
Category
Sanguine's Demesne Vanquisher
Defeat three of the champions in Sanguine's Demesne.
10
Dungeons:
Public Dungeons
Sanguine's Demesne Conqueror
Defeat all of the champions in Sanguine's Demesne.
50
Dungeons:
Public Dungeons
Sanguine's Demesne Group Event
Defeat Flight-Master Grel and his adepts at Sanguine's Demesne.
50
Dungeons:
Public Dungeons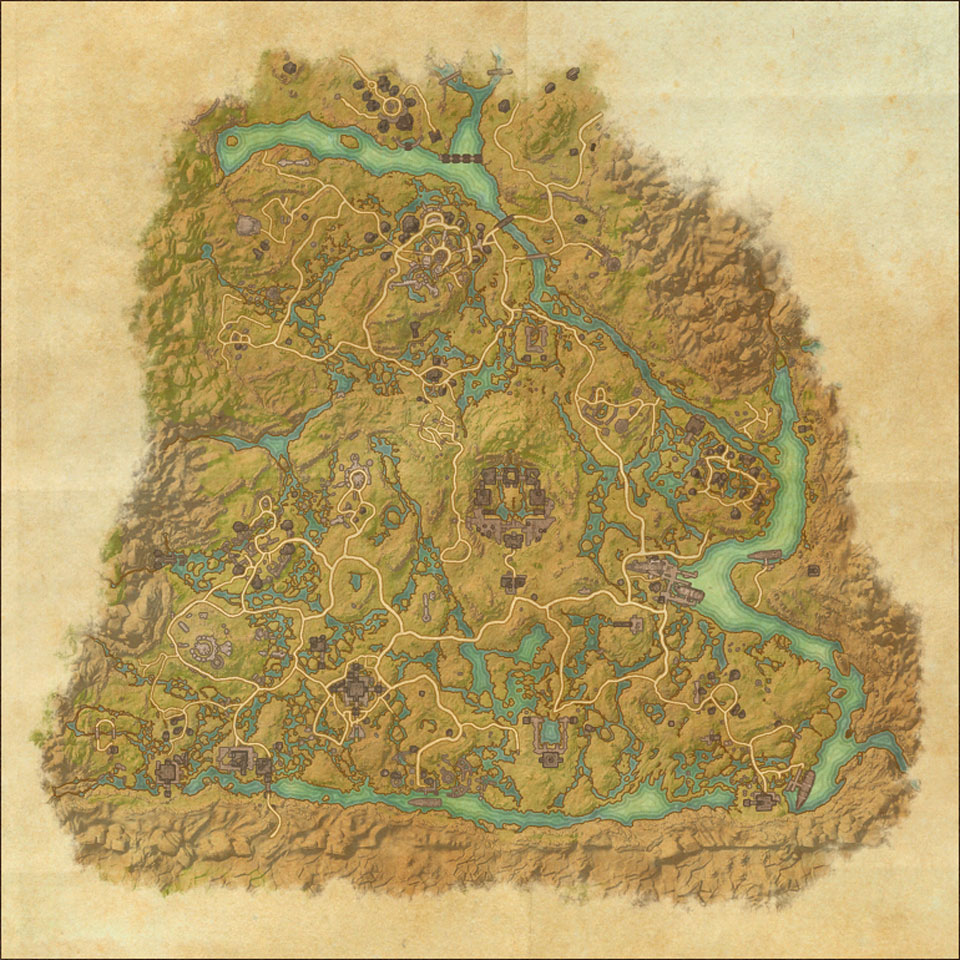 Shadowfen
Stormhold
Alten Corimont
Stormhold
Alten Corimont
Forsaken Hamlet
Stillrise Village
Murkwater
Percolating Mire
Hatching Pools
Xal Ithix
White Rose Prison
Ten-Maur-Wolk
Loriasel
Zuuk
Bogmother
Hissmir
Sunscale Strand
Mud Tree Village
Deep Graves
Arx Corinium
Sanguine's Demesne
Atanaz Ruins
Broken Tusk
Chid-Moska Ruins
Gandranen Ruins
Onkobra Kwama Mine
Shrine of the Black Maw
Bitterroot Cave

---

This is a cave occupied by a Daedroth named Urrai.

Achievement:

Urrai's Bane: Kill the Daedroth Urrai at Bitterroot Cave.
Captain Bones' Ship

---

This is a shipwreck, which is home to the skeleton crew led by Captain Bones.

Achievement:

Kill Captain Bones: Kill Captain Bones and his undead crew.
Haynekhtnamet's Lair

---

This is a cave inhabited by a wamasu named Haynekhtnamet.

Achievement:

Kill Haynekhtnamet: Kill the wamasu called Haynekhtnamet.
Nen Ria

---

This is an Ayleid ruin guarded by the Ayleid Mummy Lord Talkynd.

Achievement:

Mummy Lord Murderer: Kill the Ayleid Mummy Lord Talkynd at Nen Ria.
Slaver Camp

---

This is a camp inhabited by the Dunmer slavers.

Achievement:

Slave Lord's Rumination: Kill the Slave Lord Rendrasa at the Slaver's Camp.
Xal Thak

---

This is a ruined temple occupied by the ogres.

Achievement:

Ogre Twin Tormentor: Kill the ogre twins Argalog and Vlaga at Xal Thak.
Leafwater Dolmen
Reticulated Spine Dolmen
Venomous Fens Dolmen
The Atronach

---

This is a Mundus Stone found in Greenshade, Rivenspire, Shadowfen, and Cyrodiil. Activating the Atronach stone will grant you the permanent blessing of increased Magicka regeneration.
The Serpent

---

This is a Mundus Stone found in Greenshade, Rivenspire, Shadowfen, and Cyrodiil. Activating the Serpent stone will grant you the permanent blessing of increased combat health regeneration.
The Shadow

---

This is a Mundus Stone found in Greenshade, Rivenspire, Shadowfen, and Cyrodiil. Activating the Shadow stone will grant you the permanent blessing of increased critical strike damage.
Hatchling's Crown

---

This is a ruin in southern Shadowfen which contains a special crafting site, where you may craft items in the Hist Bark set.
Weeping Wamasu Falls

---

The falls are located in western Shadowfen and contains a special crafting site, where you may craft items in the Whitestrake's Retribution set.
Xal Haj-Ei Shrine

---

This is a shrine in northern Shadowfen. It contains a special crafting site, where you may craft items in the Magnus' Gift set.
Camp Crystal Abattoir
Camp Merciful Reduction
Camp Silken Snare
Hei-Halai
Telvanni Acquisition Camp
The Graceful Dominator
The Vile Pavilion
Tsonashap Mine
Alten Corimont Wayshrine
Bogmother Wayshrine
Forsaken Hamlet Wayshrine
Hatching Pools Wayshrine
Hissmir Wayshrine
Loriasel Wayshrine
Percolating Mire Wayshrine
Stillrise Wayshrine
Stormhold Wayshrine
Venomous Fens Wayshrine
Shadowfen Treasure Map I
Shadowfen Treasure Map II
Shadowfen Treasure Map III
Shadowfen Treasure Map IV
Shadowfen Treasure Map V
Shadowfen Treasure Map VI
Shadowfen Treasure Map CE
Alchemist Survey: Shadowfen
Blacksmith Survey: Shadowfen
Clothier Survey: Shadowfen
Enchanter Survey: Shadowfen
Woodworker Survey: Shadowfen
Skyshard (Above the Mages' eye between the falls)
Skyshard (Still shrouded by spray past a western rise)
Skyshard (Sneak behind the relic-thieves' camp)
Skyshard (Beside a bowsprit among pirates)
Skyshard (Ritual flames brew trouble in the mire)
Skyshard (Where wisps waylay wanderers)
Skyshard (Like the sound of steam or snakes)
Skyshard (Overlooking the murk of Xal Ithix)
Skyshard (Imprisoned in a crumbling tower)
Skyshard (Peek behind pillars in Atanaz)
Skyshard (Skittering, slithering, a tusk once whole)
Skyshard (Unearthed by an outlaw excavation)
Skyshard (Crown in hand, leave and look right)
Skyshard (Climb, little kwama, to reach your goal)
Skyshard (Digesting in the belly of the Black Maw)
Skyshard (Deep in the den of debauchery)