The Elder Scrolls Online, Map of Grahtwood
Grahtwood
Elden Root serves as the center of the Aldmeri Dominion, hidden away in the impenetrable jungle.
Alliance: Aldmeri Dominion.
Part of: Valenwood (The homeland of the Wood Elves).
Capital City: Elden Root. Settlements: Haven, Redfur Trading Post.
Grahtwood Skyshards
Granted safe haven by the mages (Just east of Mages Guild's building in Haven).
The shrine of the south leads north (North of Southpoint Wayshrine, close by the main road).
Cooling off on the way to the Tower (Northeast of Gray Mire Wayshrine, near to The Tower mundus stone).
Where the road to the root is an isle (On a small island in the southeastern part of Elden Root).
Atop falls that feed the temple (Northeast of Elden Root Temple Wayshrine, on top of a waterfall).
Spotted from a treehouse vantage (Between Cormount Wayshrine and Elden Root Temple Wayshrine, close by the main road).
A doorway to trolls near Redfur (South of Redfur Trading Post Wayshrine, next to the entrance into Abandoned Iron Mine).
Among ancient words in the stones (West of Falinesti Winter Wayshrine, on a small island).
Above a seasonal site of return (Southwest of Elden Root, in the eastern part of Falinesti Winter Site).
Where Covenant forces pour forth (Inside Ne Salas solo dungeon).
A scrabbling, a skittering, a scurrying (Inside The Scuttle Pit solo dungeon).
Six-legged thunder invades (Inside Burroot Kwama Mine solo dungeon).
Not yet dead on the vine (Inside Vinedeath Cave solo dungeon).
Stolen starlight in wormy depths (Inside Wormroot Depths solo dungeon).
Mined by the bandits of Mobar (Inside Mobar Mine solo dungeon).
Crocs claimed a meal in the sunder (Inside Root Sunder Ruins public dungeon).
Root Sunder Ruins (Public Dungeon)
Name
Description
Points
Category
Root Sunder Vanquisher
Defeat three of the champions in Root Sunder.
10
Dungeons:
Public Dungeons
Root Sunder Conqueror
Defeat all of the champions in Root Sunder.
50
Dungeons:
Public Dungeons
Root Sunder Group Event
Destroy the Bonemonger and its captors in Root Sunder Ruins.
50
Dungeons:
Public Dungeons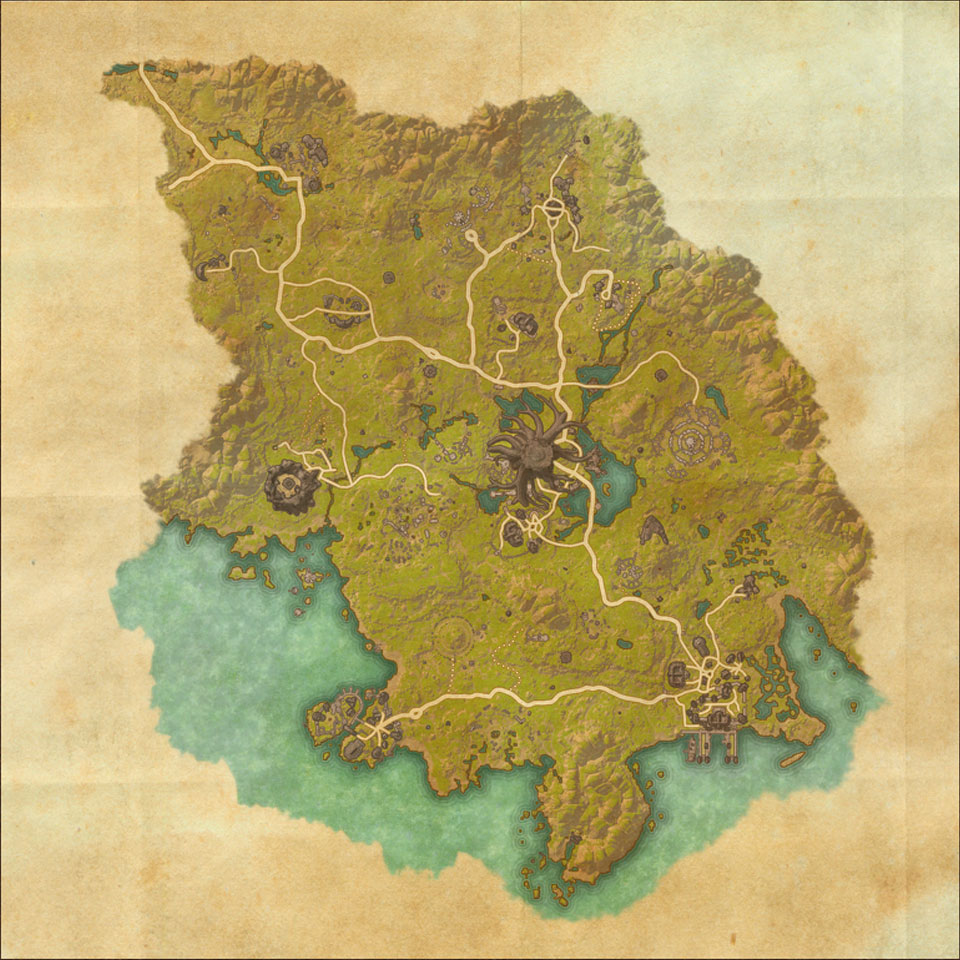 Grahtwood
Elden Root
Haven
Redfur Trading Post
Elden Root
Haven
Redfur Trading Post
Cormount
Karthdar
Brackenleaf
Gil-Var-Delle
The Gray Mire
Southpoint
Reman's Bluff
Cave of Broken Sails
Laeloria
Reliquary of Stars
Falinesti Winter Site
Goldfolly
Ossuary of Telacar
Bone Orchard
Elden Hollow
Root Sunder Ruins
Burroot Kwama Mine
Mobar Mine
Ne Salas
The Scuttle Pit
Vinedeath Cave
Wormroot Depths
Hircine's Henge

---

This is a camp inhabited by an Orc huntress named Shagura and her bear, Gurgozu.

Achievement:

Shagura's Doom: Defeat the crazed Orc hunter Shagura at Hircine's Henge.
Lady Solace's Fen

---

This is a swamp inhabited by a nereid named Lady Solace.

Achievement:

Water Walloper: Defeat the nereid Lady Solace in Lady Solace's Fen.
Nindaeril's Perch

---

This is a small cove on the eastern shore of Grahtwood. Two senche-tigers, Nindaeril the Monsoon and Bavura the Blizzard, resides here.

Achievement:

Monsoon Marauder: Defeat the senche-tigress Nindaeril the Monsoon atop Nindaeril's Perch.
Poacher Camp

---

This is a big camp inhabited by the poachers. Their leader, Otho Rufinus, resides here.

Achievement:

Poacher Pounder: Defeat Otho Rufinus, the poacher leader, at the Poacher Camp.
Thugrub's Cave

---

This is a cave inhabited by a flesh atronach named Thugrub the Reformed.

Achievement:

Thugrub Dissector: Defeat the giant flesh atronach Thugrub the Reformed in Thugrub's Cave.
Valanir's Rest

---

This is a graveyard guarded by a lich named Valanir the Restless and a skeleton named Valanir's Shield.

Achievement:

Valanir's Bane: Defeat the lich Valanir the Restless at Valanir's Rest.
Green Hall Dolmen
Long Coast Dolmen
Tarlain Heights Dolmen
The Lord

---

This is a Mundus Stone found in Grahtwood, Stormhaven, and Deshaan. Activating the Lord stone will grant you the permanent blessing of increased health.
The Mage

---

This is a Mundus Stone found in Grahtwood, Stormhaven, Deshaan, and Cyrodiil. Activating the Mage stone will grant you the permanent blessing of increased magicka.
The Tower

---

This is a Mundus Stone found in Grahtwood, Stormhaven, Deshaan, and Cyrodiil. Activating the Tower stone will grant you the permanent blessing of increased stamina.
Fisherman's Isle

---

This is an island east of Haven which contains a special crafting site, where you may craft items in the Torug's Pact set.
Temple of the Eight

---

This is an old temple guarded by the Brackenleaf Briars. It contains a special crafting site, where you may craft items in the Seducer set.
Vineshade Lodge

---

This is a building northwest of Haven which contains a special crafting site, where you may craft items in the Twilight's Embrace set.
Battle of Cormount Memorial
Boar's Run Overlook
Faltonia's Mine
Forked Root Camp
Sacred Leap Grotto
Sweetbreeze Cottage
Tarlain Bandit Camp
Cormount Wayshrine
Elden Root Temple Wayshrine
Elden Root Wayshrine
Falinesti Winter Wayshrine
Gil-Var-Delle Wayshrine
Gray Mire Wayshrine
Haven Wayshrine
Ossuary Wayshrine
Redfur Trading Post Wayshrine
Southpoint Wayshrine
Grahtwood Treasure Map I
Grahtwood Treasure Map II
Grahtwood Treasure Map III
Grahtwood Treasure Map IV
Grahtwood Treasure Map V
Grahtwood Treasure Map VI
Grahtwood Treasure Map CE
Alchemist Survey: Grahtwood
Blacksmith Survey: Grahtwood
Clothier Survey: Grahtwood
Enchanter Survey: Grahtwood
Woodworker Survey: Grahtwood
Skyshard (Granted safe haven by the mages)
Skyshard (The shrine of the south leads north)
Skyshard (Cooling off on the way to the Tower)
Skyshard (Where the road to the root is an isle)
Skyshard (Atop falls that feed the temple)
Skyshard (Spotted from a treehouse vantage)
Skyshard (A doorway to trolls near Redfur)
Skyshard (Among ancient words in the stones)
Skyshard (Above a seasonal site of return)
Skyshard (Where Covenant forces pour forth)
Skyshard (A scrabbling, a skittering, a scurrying)
Skyshard (Six-legged thunder invades)
Skyshard (Not yet dead on the vine)
Skyshard (Stolen starlight in wormy depths)
Skyshard (Mined by the bandits of Mobar)
Skyshard (Crocs claimed a meal in the sunder)