Oblivion, Map of Leyawiin, Guide to Leyawiin
Excerpts from Alessia Ottus' Guide to Leyawiin
Pinned between the savage and uncivilized provinces of Elsweyr and Black Marsh, and guarding the vital passage up the River Niven from Topal Bay to the Imperial City, Leyawiin is a mighty fortress, with tall stone walls and strong garrisons.
Leyawiin is a bright and cheerful, prosperous town in the midst of Blackwood's swampy wildernesses, with wide, bright streets, large, comfortable houses, half-timbered or painted stucco, many of which are colorful and not too dirty or weather-worn. There are trees and flowering shrubs everywhere, and peaceful plazas and ponds for quiet contemplation.
Marius Caro is Count Leyawiin, and his recent bride, the lovely and cultivated Alessia Caro, is the daughter of the righteous and reliable Countess Arriana Valga of Chorrol. The Count and Countess are energetic supporters of Imperialization, and they work tirelessly to bring the traditional values of hard-working, chapel-going, and law-abiding Nibenese Heartland Imperial culture to this frontier outpost.
The town itself lies with tall curtain walls on the west bank of the Niben. To the east through two gates lies the inner keep and Castle Leyawiin, straddling the deep channels of the river. The Chapel of Zenithar lies in the northwest, near the West Gate. All the shops, inns, and guildhalls lie south of the chapel, in the western half of town, except for a fine bookstore and general trader north of the road traversing the town east-west from West Gate. The residential part of town runs along a single wide north-south boulevard, backed on the east by deep ponds created by impounding one of the meandering channels of the Niben.
The Chapel of Stendarr and the Count and Countess are partners in attempting to extend the benefits of heartland Nibenese culture to the benighted frontier populations of Blackwood and the Lower Niben. Trade and industry are strong in Leyawiin, thanks to the patronage of Zenithar, and notwithstanding the bandits troubling caravans and travellers along the Green Road through the recently annexed Trans-Niben.
Mages Guild:
Thieves Guild:
Dark Brotherhood:
Side:

Tears of the Savior
Whom Gods Annoy
Raid on Greyland
Buying a house in Leyawiin

Mazoga the Orc:

Mazoga the Orc
Knights of the White Stallion

DLC:

The Path of the Righteous (KotN)
Castle Leyawiin:

Count Marius Caro (House)
Countess Alessia Caro
Hlidara Mothril
Britta Invel
Jaras Invel
Vlarimil Orius
Termanwe
Janonia Aurunceia
Januarius Aurunceia
On-Staya Sundew
Tsavi
Caelia Draconis (Guard)
Adamus Phillida (Guard)
Decentius Opsius (Guard)
Mazoga the Orc

Fighters Guild:

Antus Flonius
Cingor
Dubok gro-Shagk
Rellian
Brodras, Heavy Armor Training, Basic (0-40)
Sherina, Blade Training, Advanced (0-70)
S'kasha
Vantus Prelius

Mages Guild (Sp.: Mysticism):

Dagail, Mysticism Training, Master (71-100)
Agata, Merchant (Mysticism Spells/Recharge)
Alves Uvenim, Merchant (Ingredients/Potions/Mysticism Spells)
S'drassa, Alchemy Training, Basic (0-40)
Kalthar

Chapel of Zenithar:

Kantav Cheynoslin
Avrus Adas, Merchant (Restoration Spells)
Silana Blandia

Beggars:

Deeh the Scalawag
Rancid Ra'dirsha

Five Riders Stables:

Cat-Face, Merchant (Paint Horse)
Atahba
M'aiq the Liar
Lerexus Callidus (Guard)

Blackwood Company:

Ajum-Kajin
Geel
Ja'Fazir
Jee-Tah
Jeetum-Ze
Oleed-Ei
Rana
Ri'Zakar
Hears-Voices-In-The-Air
Sings-Like-Thunder

Other:

Bugak gro-Bol, Southern Books - Merchant (Books), Blunt Training, Basic (0-40)
Gundalas, Best Goods and Guarantees - Merchant (General, Home Upgrades)
Elsynia, Best Goods and Guarantees - Merchant (General)
Tun-Zeeus, The Dividing Line - Merchant (Armor/Weapons/Misc./Repairs)
Eitar, Margarte's House - Repairs, Armorer Training, Basic (0-40)
Shuravi, Three Sisters - Food/Bed
Witseidutsei, Five Claws Lodge - Food/Bed
Ahdarji (TG), Light Armor Training, Advanced (0-70)
Dar Jee (TG, Fence (General))
Alval Uvani (DB)
Mahei, Athletics Training, Basic (0-40)
Numeen
Bejeen
Betto Plotius
Julitta Plotius
J'bari, Light Armor Training, Master (71-100)
Tsrava, Acrobatics Training, Advanced (0-70)
Margarte, Mercantile Training, Advanced (0-70)
Otumeel
Ra'Jahirr
Rosentia Gallenus
Shamada
Shomara
Weebam-Na
Leyawiin House for Sale can be purchased from Count Marius Caro for 7,000 gold. Upgrades for home can be purchased from Gundalas at Best Goods and Guarantees. Without all upgrades, the home contains only a table with a single chair and a simple double bed.
Seller: Count Marius Caro (disposition 60+);
Price to Purchase Home: 7000 gold;
Upgrades Purchased From: Gundalas at Best Goods and Guarantees;
Total Base Cost of All Upgrades: 7000 gold.
Upgrades:
House Bedroom Area (1000 gold): Dresser (1), Privacy Screen (1), Rug (1), Set of Shelves (1), Assorted Candles;
House Dining Area (1000 gold): Chairs (3), Rug (1), Candle (1), Assorted Pottery;
House Kitchen Area (1000 gold): Cupboard (1), Large Table (1), Assorted Baskets;
House Reading Area (1000 gold): Bookshelves (3), Candles on Holders (2), Chair (1), Small Table (1), Rug (1), Large Privacy Screen (1);
House Storage Area (1000 gold): Barrels (3), Chest (1), Basket (1), Rug (1), Broom (1);
House Study Area (1000 gold): Desk (1), Chair (1), Bookshelf (1), Candelabra (1);
House Wall Hangings (1000 gold): Paintings (5), Tapestries (2).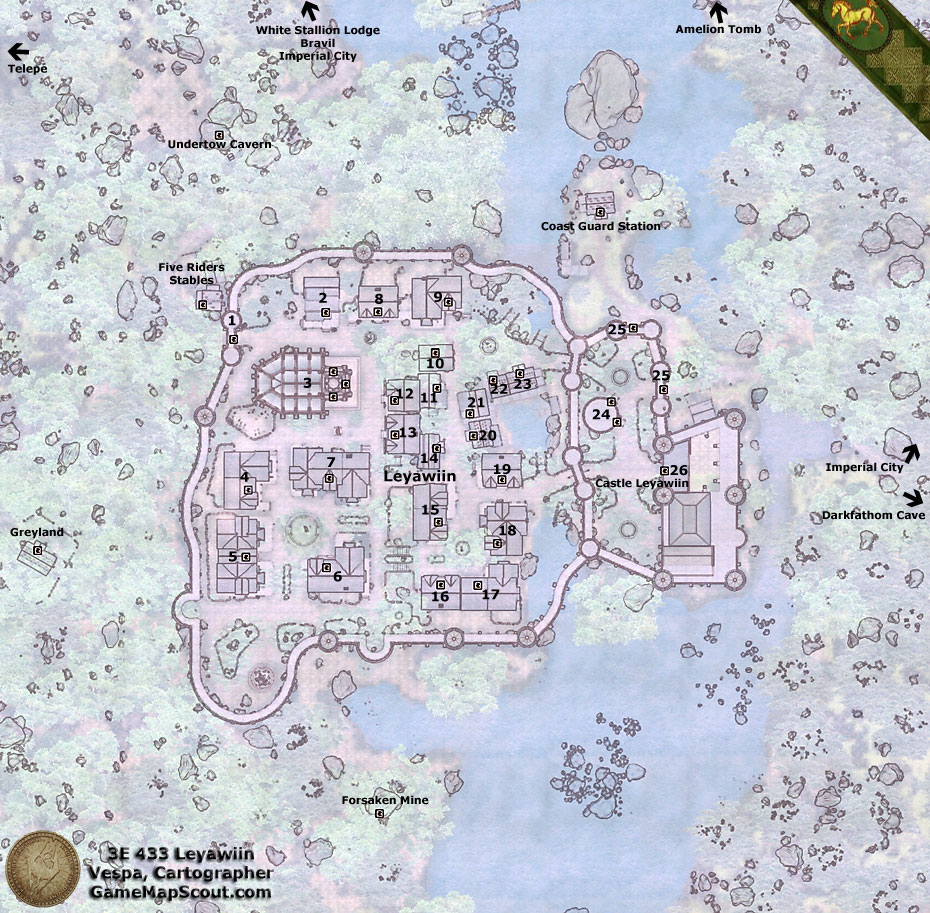 1 - Leyawiin - West Gate, 2 - Five Claws Lodge, 3 - The Great Chapel of Zenithar, 4 - Southern Books, 5 - Leyawiin Mages Guild, 6 - Blackwood Company Hall, 7 - Leyawiin Fighter's Guild, 8 - The Dividing Line, 9 - Best Goods and Guarantees, 10 - Ra'Jahirr's House, 11 - Cingor's House, 12 - Margarte's House, 13 - Three Sisters' Inn, 14 - House for Sale, 15 - Rosentia Gallenus's House, 16 - Mahei's House, 17 - Alval Uvani's House, 18 - J'Bari's House, 19 - Ahdarji's House, 20 - Weebam-Na's House, 21 - Dar Jee's House, 22 - Otumeel's House, 23 - Betto Plotius' House, 24 - City Watch Barracks, 25 - Leyawiin - North East Gate, 26 - Castle Leyawiin