The Elder Scrolls Online, Map of Deshaan
Deshaan
Deshaan's fertile, ash-enriched plains surround the Tribunal Temple, the center of Dunmeri culture. The nomads of Morrowind, the Ashlanders, frequent the plains of Deshaan.
Alliance: Ebonheart Pact.
Part of: Morrowind (The homeland of the Dark Elves).
Capital City: Mournhold. Settlements: Narsis.
Deshaan Skyshards
Free from quarantine (Southwest of Quarantine Serk Wayshrine).
A Hlaalu victory in Narsis (East of West Narsis Wayshrine, behind Hlaalu Kinhouse in Narsis).
A river view on Muth Gnarr's outskirts (Southeast of Muth Gnaar Hills Wayshrine, between Hlanii's Hovel and Muth Gnaar).
A twin falls in Mournhold (Northeast of Mournhold Wayshrine, next to twin waterfalls in Mournhold).
Near the remnants of a House caravan (Northeast of Mzithumz Wayshrine, east of Mzithumz).
Follow the river that snakes south to its source (Southeast of Ghost Snake Vale Wayshrine, south of Coiled Path Landing).
Search near the cavern with three eyes (Southwest of Silent Mire Wayshrine, next to Darkshade Caverns group dungeon).
The right tower is Tal'Deic's left (West of Tal'Deic Grounds Wayshrine, inside Tal'Deic Fortress).
Where ships dock and mushrooms Mire (Southeast of Tal'Deic Grounds Wayshrine, under the cap of a huge mushroom).
Where the dead walk, no memories linger (Inside Forgotten Crypts public dungeon).
Lend me your ear (Inside Knife Ear Grotto solo dungeon).
Where a lady seeks kwama before the storm (Inside Lady Llarel's Shelter solo dungeon).
Asleep in the depths, the Dwemer awakens (Inside Lower Bthanual solo dungeon).
Mind your step where the water drops in (Inside Triple Circle Mine solo dungeon).
Go from Crags to riches (Inside Taleon's Crag solo dungeon).
Where corpses till a garden of sand (Inside The Corpse Garden solo dungeon).
Forgotten Crypts (Public Dungeon)
Name
Description
Points
Category
Forgotten Crypts Vanquisher
Defeat three of the champions in Forgotten Crypts.
10
Dungeons:
Public Dungeons
Forgotten Crypts Conqueror
Defeat all of the champions in Forgotten Crypts.
50
Dungeons:
Public Dungeons
Forgotten Crypts Group Event
Eradicate the Kwama infestation and kill the Kwama Guardians in the Forgotten Crypts.
50
Dungeons:
Public Dungeons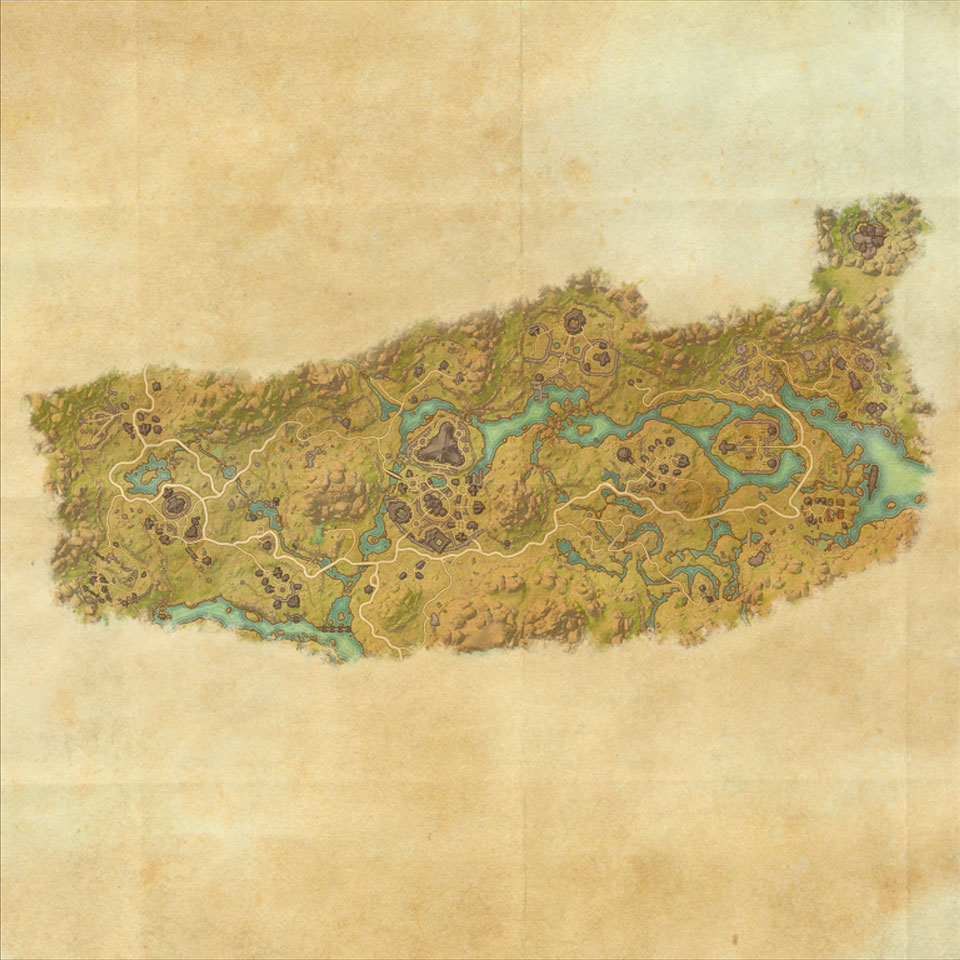 Deshaan
Mournhold
Narsis
Mournhold
Narsis
Muth Gnaar
Selfora
Silent Mire
Tal'Deic Fortress
Shad Astula
Malak's Maw
Quarantine Serk
Vale of the Ghost Snake
Tribunal Temple
Eidolon's Hollow
Bthanual
Mzithumz
Obsidian Gorge
Shrine of Saint Velothi
Deepcrag Den
Darkshade Caverns
Forgotten Crypts
The Corpse Garden
Knife Ear Grotto
Lady Llarel's Shelter
Lower Bthanual
Taleon's Crag
Triple Circle Mine
Caravan Crest

---

This is a hill west of Silent Mire guarded by a giant guar named Bittergreen the Wild.

Achievement:

Bittergreen Hunter: Kill the giant guar, Bittergreen the Wild, at Caravan Crest.
Dire Bramblepatch

---

This is a grove west of Selfora inhabited by a giant troll named Sharpfang.

Achievement:

Sharpfang Hunter: Kill the giant troll, Sharpfang, at the Dire Bramblepatch.
Druitularg's Ritual Altar

---

This altar is on an island in the river north of Selfora. A Dremora named Druitularg resides here.

Achievement:

Druitularg Hunter: Kill the Dremora ritualist, Druitularg, at Druitularg's Ritual Altar.
Grove of the Abomination

---

This is a grove southeast of Narsis inhabited by a corpse husk named The Abomination.

Achievement:

Abomination Hunter: Kill the corpse husk, the Abomination, at the Grove of the Abomination.
Mabrigash Burial Circle

---

This is a cemetery at the eastern edge of the Vale of the Ghost Snake. A ghost named the Mabrigash Shade resides here.

Achievement:

Mabrigash Shade Hunter: Kill the Mabrigash Shade at the Mabrigash Burial Circle.
Short-Tusk's Hillock

---

This is a hill northwest of Narsis guarded by a giant kagouti named Short-Tusk.

Achievement:

Short-Tusk Hunter: Kill the giant kagouti, Short-Tusk, at Short-Tusk's Hillock.
Lagomere Dolmen
Redolent Loam Dolmen
Siltreen Dolmen
The Lord

---

This is a Mundus Stone found in Grahtwood, Stormhaven, and Deshaan. Activating the Lord stone will grant you the permanent blessing of increased health.
The Mage

---

This is a Mundus Stone found in Grahtwood, Stormhaven, Deshaan, and Cyrodiil. Activating the Mage stone will grant you the permanent blessing of increased magicka.
The Tower

---

This is a Mundus Stone found in Grahtwood, Stormhaven, Deshaan, and Cyrodiil. Activating the Tower stone will grant you the permanent blessing of increased stamina.
Avayan's Farm

---

This is a small farm located in eastern Deshaan, which contains a special crafting site, where you may craft items in the Twilight's Embrace set.
Berezan's Mine

---

This is a closed mine located west of Mzithumz, which contains a special crafting site, where you may craft items in the Seducer set.
Lake Hlaalu Retreat

---

This is a lake-side camp located north of Narsis, which contains a special crafting site, where you may craft items in the Torug's Pact set.
Coiled Path Landing
Hlanii's Hovel
House Dres Farmstead
Old Ida's Cottage
Redoran Pier
Shrine to Saint Rilms
Smuggler's Slip
Eidolon's Hollow Wayshrine
Ghost Snake Vale Wayshrine
Mournhold Wayshrine
Muth Gnaar Hills Wayshrine
Mzithumz Wayshrine
Obsidian Gorge Wayshrine
Quarantine Serk Wayshrine
Selfora Wayshrine
Shad Astula Wayshrine
Silent Mire Wayshrine
Tal'Deic Grounds Wayshrine
West Narsis Wayshrine
Deshaan Treasure Map I
Deshaan Treasure Map II
Deshaan Treasure Map III
Deshaan Treasure Map IV
Deshaan Treasure Map V
Deshaan Treasure Map VI
Deshaan Treasure Map CE
Alchemist Survey: Deshaan
Blacksmith Survey: Deshaan
Clothier Survey: Deshaan
Enchanter Survey: Deshaan
Woodworker Survey: Deshaan
Skyshard (Free from quarantine)
Skyshard (A Hlaalu victory in Narsis)
Skyshard (A river view on Muth Gnarr's outskirts)
Skyshard (A twin falls in Mournhold)
Skyshard (Near the remnants of a House caravan)
Skyshard (Follow the river that snakes south to its source)
Skyshard (Search near the cavern with three eyes)
Skyshard (The right tower is Tal'Deic's left)
Skyshard (Where ships dock and mushrooms Mire)
Skyshard (Where the dead walk, no memories linger)
Skyshard (Lend me your ear)
Skyshard (Where a lady seeks kwama before the storm)
Skyshard (Asleep in the depths, the Dwemer awakens)
Skyshard (Mind your step where the water drops in)
Skyshard (Go from Crags to riches)
Skyshard (Where corpses till a garden of sand)