The Elder Scrolls Online, Map of Bangkorai
Bangkorai
The thick woodlands in the north of Bangkorai give way to a blistering desert in the south. Daedra-worshipping Reachmen have been causing trouble in this region, and there are fears of an Imperial invasion from the south.
Alliance: Daggerfall Covenant.
Part of: Hammerfell (The homeland of the Redguards).
Cities: Evermore, Hallin's Stand.
Bangkorai Skyshards
A scenic view of Evermore's bridge (Next to the bridge leading from Stormhaven, outside the wall protecting Evermore).
Listening to Silaseli's whispers (Northeast of Evermore Wayshrine, in the area of Silaseli Ruins).
Tossed into a coveside tower (West of Halcyon Lake Wayshrine, inside a destroyed tower near to the main road).
Answer the call to battle (South of Viridian Woods Wayshrine, outside the walls surrounded Martyr's Crossing camp).
Secret shrine by Pelin's Church (Southwest of Eastern Evermore Wayshrine, in the area of Pelin Graveyard).
Hears hags but sees mobile limbs (East of Evermore Wayshrine, near to a small cliff overlooking above Northglen).
Waiting to be inducted to the Hall (West of Onsi's Breath Wayshrine, north of Hall of Heroes).
Take a fall from the grotto (North of Nilata Ruins Wayshrine, next to Nilata Falls).
Nested in an Imperial camp (Southeast of Old Tower Wayshrine, near Basking Grounds).
Sent away to stay with the dead (Inside Crypt of the Exiles solo dungeon).
Tragic tale of architect and princess (Inside Klathzgar solo dungeon).
Found in spite (Inside Torog's Spite solo dungeon).
Where a stormy ritual brews (Inside Rubble Butte solo dungeon).
Stuck in a troll's maw (Inside Troll's Toothpick solo dungeon).
Bjoulsae bandits' hidden lair (Inside Viridian Watch solo dungeon).
Meddling Imperials disrupt the wheel (Inside Razak's Wheel public dungeon).
Razak's Wheel (Public Dungeon)
Name
Description
Points
Category
Razak's Wheel Vanquisher
Defeat three of the champions in Razak's Wheel.
10
Dungeons:
Public Dungeons
Razak's Wheel Conqueror
Defeat all of the champions in Razak's Wheel.
50
Dungeons:
Public Dungeons
Razak's Wheel Group Event
Defeat the flesh atronach at Razak's Wheel.
50
Dungeons:
Public Dungeons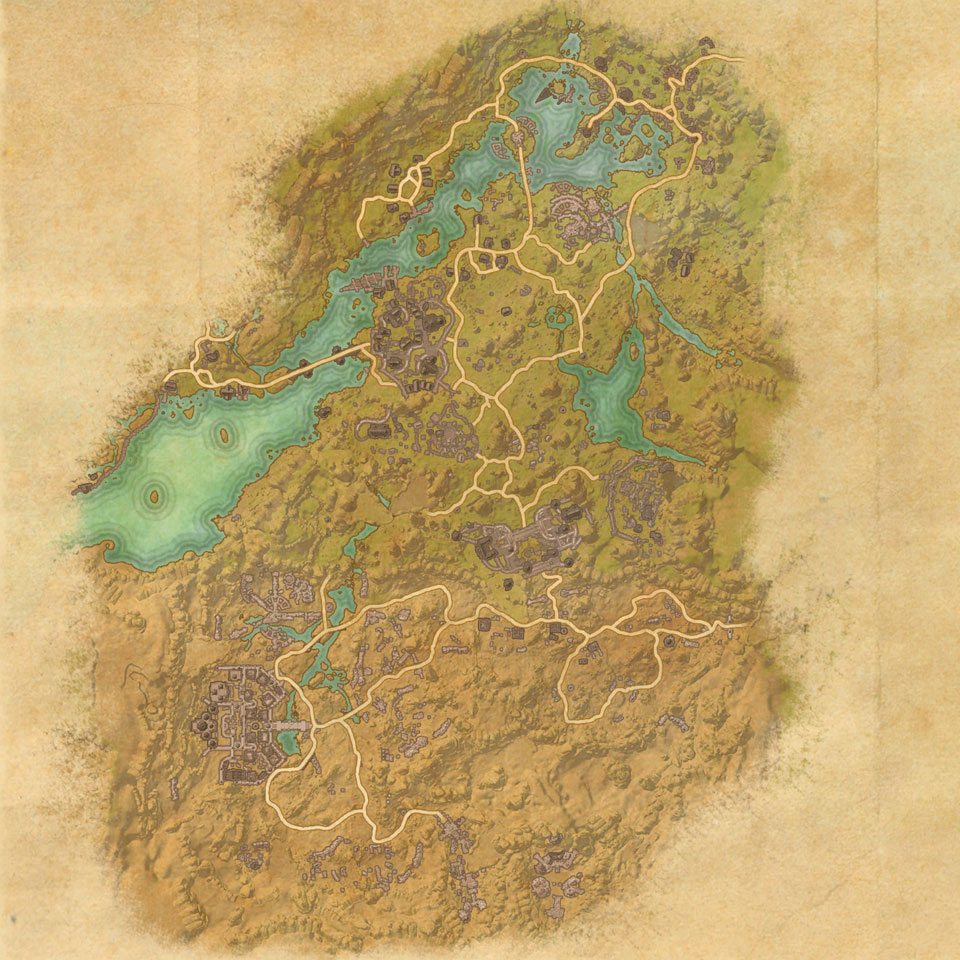 Bangkorai
Evermore
Hallin's Stand
Evermore
Hallin's Stand
Kerbol's Hollow
Murcien's Hamlet
Jackdaw Cove
Martyr's Crossing
Bangkorai Garrison
Old Tower
Damar Farmstead
Northglen
Fallen Grotto
Viridian Woods
Halcyon Lake
Nilata Ruins
Qharroa Ruins
Onsi's Breath
Sunken Road
Hall of Heroes
Pelin Graveyard
Blackheart Haven
Razak's Wheel
Crypt of the Exiles
Klathzgar
Rubble Butte
Torog's Spite
Troll's Toothpick
Viridian Watch
Arlimahera's Sanctum

---

This is a cavern under Arlimahera's Grip, a ruined fortress in eastern Bangkorai. The fortress has become overrun with Daedra.

Achievement:

Dayarrus' Deathbringer: Kill Dayarrus the Xivilai at Arlimahera's Sanctum.
Blighted Isle

---

This is a small river island north of Evermore. A spriggan named Woodblight resides here.

Achievement:

Woodblight Killer: Kill the spriggan Woodblight at Blighted Isle.
Lakewatch Tower

---

This is a small tower occupied by the ghost Garach Wolf-Father and his werewolf spirits.

Achievement:

Wolf-Father Exorcist: Destroy the ghost Garach Wolf-Father and his werewolf spirits at Lakewatch Tower.
Nilata Falls

---

This is a waterfall northeast of Nilata Ruins guarded by a frost atronach named Nomeg Hyri.

Achievement:

Nomeg Hyril's Executioner: Kill the frost atronach monarch Nomeg Hyri at Nilata Falls.
Summoner's Camp

---

This is a camp inhabited by the summoner Caecilia Attius and her Daedra minions.

Achievement:

Summoner Slayer: Kill the summoner Caecilia Attius and her Daedra minions at the Summoner's Camp.
Telesubi Ruins

---

This is a ruin occupied by the liches.

Achievement:

Lich Butcher: Kill the liches Qumehdi and Zaman at the Telesubi Ruins.
Ephesus Dolmen
Fallen Wastes Dolmen
Mournoth Dolmen
The Apprentice

---

This is a Mundus Stone found in Reaper's March, Bangkorai, the Rift, and Cyrodiil. Activating the Apprentice stone will grant you the permanent blessing of increased spell penetration.
The Steed

---

This is a Mundus Stone found in Reaper's March, Bangkorai, the Rift, and Cyrodiil. Activating the Steed stone will grant you the permanent blessing of increased run speed.
Silaseli Ruins

---

This is a ruin located on the southern shore of Halcyon Lake. The ruin contains a special crafting site, where you may craft items in the Night Mother's Gaze set.
Viridian Hideaway

---

This is a cave behind a waterfall located south of Kerbol's Hollow. The cave contains a special crafting site, where you may craft items in the Willow's Path set.
Wether's Cleft

---

This is a cleft located southeast of Bangkorai Garrison. The cleft contains a special crafting site, where you may craft items in the Hunding's Rage set.
Ash'abahs' Oasis
Basking Grounds
Gjarma's Rock
Howler's Nook
Sacred Springs
Strastnoc's Landing
Yanurah's Respite
Bangkorai Pass Wayshrine
Eastern Evermore Wayshrine
Evermore Wayshrine
Halcyon Lake Wayshrine
Hallin's Stand Wayshrine
Nilata Ruins Wayshrine
Old Tower Wayshrine
Onsi's Breath Wayshrine
Sunken Road Wayshrine
Troll's Toothpick Wayshrine
Viridian Woods Wayshrine
Bangkorai Treasure Map I
Bangkorai Treasure Map II
Bangkorai Treasure Map III
Bangkorai Treasure Map IV
Bangkorai Treasure Map V
Bangkorai Treasure Map VI
Bangkorai Treasure Map CE
Blacksmith Survey: Bangkorai
Clothier Survey: Bangkorai
Enchanter Survey: Bangkorai
Woodworker Survey: Bangkorai
Skyshard (A scenic view of Evermore's bridge)
Skyshard (Listening to Silaseli's whispers)
Skyshard (Tossed into a coveside tower)
Skyshard (Answer the call to battle)
Skyshard (Secret shrine by Pelin's Church)
Skyshard (Hears hags but sees mobile limbs)
Skyshard (Waiting to be inducted to the Hall)
Skyshard (Take a fall from the grotto)
Skyshard (Nested in an Imperial camp)
Skyshard (Sent away to stay with the dead)
Skyshard (Tragic tale of architect and princess)
Skyshard (Where a stormy ritual brews)
Skyshard (Found in spite)
Skyshard (Stuck in a troll's maw)
Skyshard (Bjoulsae bandits' hidden lair)
Skyshard (Meddling Imperials disrupt the wheel)